Attending the 2022 PHUSE US Connect in Atlanta was similar to attending a concert for one of your favorite music artists. Technology does a fantastic job trying to virtually mimic in-person interaction, whether it's a virtual meeting with your peers or watching a recording of a band performing at an exotic venue, but nothing compares to the dynamic and interactive nature of a live event.
The US Connect is renowned for bringing industry data professionals together with three days of cutting-edge presentations, interesting keynote speakers, leadership and technical workshops, innovation challenges, lots of networking and fun social events.
The 500 plus attendees will agree that we shared an outstanding experience and had a productive and memorable event.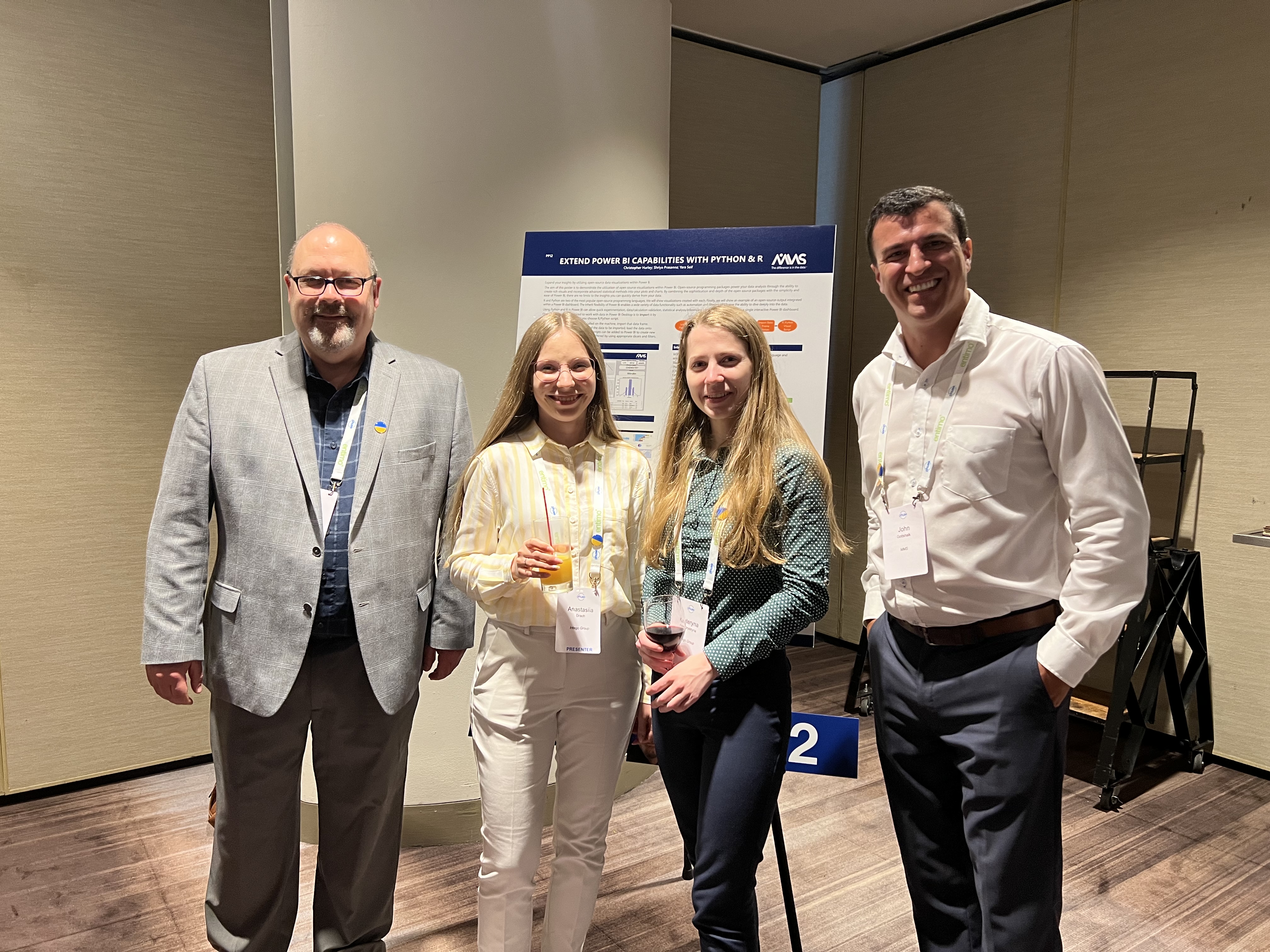 ¹
1: Chris Hurley, MMS, John Gottshalk, MMS, and colleagues from Intego.
This blog discusses the meeting components and execution of the conference, along with a few thoughts on the experience.
Presentations
Like an artist selecting the best compilation of songs, PHUSE selects the best out of hundreds of abstracts to ensure the agenda is full of top quality and interesting content. Streams within the agenda are continually improved to ensure a new experience.
2022 PHUSE US Connect streams included Analytics, Data Visualization, Professional Development, and Vaccine development among many others. The presenters delivered their content through a collection of presentations, feedback and Q&A in a concise and impactful way.
PHUSE/FDA Innovation Challenge
I was honored to be one of the chairs of the PHUSE/FDA Innovation Challenge, which was virtual in 2020 due to the pandemic but live this year in Atlanta.
Challengers presented solutions along three pillars:
Emergent Issues: Prototype solutions that prepare us to quickly identify signals in data from different sources to protect public health and promote health equity.

Interoperability: Develop use cases for the development or implementation of standards and methods to integrate real-world data, improve clinical outcomes, increases efficiencies and accelerate equity in clinical research.

Other Trends and Technology: Adapt the use of affordable and innovative technology approaches to the collection of clinical data that is fit for purpose, increases traceability, compliance and accelerates equity in clinical research and healthcare.
Congratulations to the challenge winners from the Intego, GSK and IBM teams. The authors and presenters of all the content, in all streams, are like artists bringing their passions and experiences alive as they share during their sessions.
A couple of my colleagues at MMS worked with me to create a poster I delivered on Tuesday evening. It showed how we had integrated R and Python scripts into a Power BI dashboard, thus enabling far more analyses than possible with the standard Power BI data visualizations. The people I spoke with during the presentation were unaware that Power BI had such capability.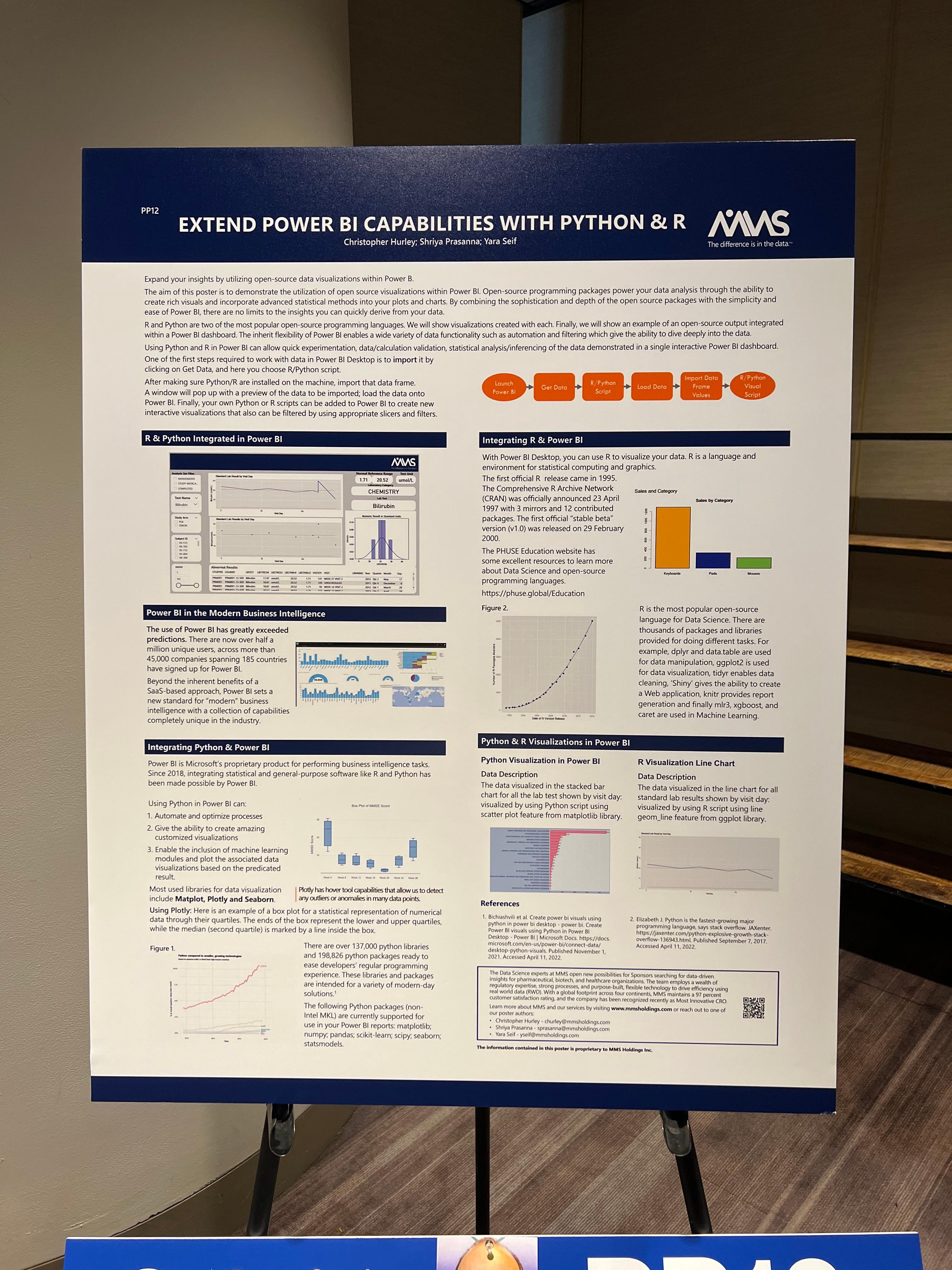 ²
2. The MMS poster on integrating R and Python scripts into a Power BI dashboard.
Power BI is the foundation of the MMS Datacise Platform that provides real-time insights to our sponsors with interactive web-based dashboards.
Networking
Fun networking opportunities, like the Monday Night Comedy Show that had my sides hurting from laughter and a Poker event where I gathered old and new friends to play Euchre after I was eliminated, opened the door for conversations with fellow industry professionals.
We spoke on topics like support for NDA submissions, vendor software, technical writing and my personal favorite – data visualization.
Until next year…
PHUSE held a spectacular event in Atlanta! The conference venue, content, networking, support and execution met the high standards PHUSE holds. It provided attendees with incredible networking opportunities, experience lessons on a wide range of topics and a lifetime of memories.
I am very grateful for the opportunity to help plan and attend this wonderful conference, and MMS is a proud sponsor.
The next US Connect is less than 10 months away, and PHUSE is already composing, planning and gathering support for the next great event. I hope to see you there!
By: Chris Hurley, Director of Data Science
John Gottshalk, Business Development Specialist at MMS, contributed to this article.
Learn more about data science at MMS here.