I attended the American Chemical Society (ACS) Central Regional Meeting – CERM 2022 in person, hosted at Eastern Michigan University in Ypsilanti, Michigan, June 7-10th
Attendance was still adversely affected by understandable caution around COVID-19 and flight delays, but it was great to see students, academics and industry professionals get together to share data and research in person.
The Importance of Industry Networking
It reminded me of my first ACS National Meeting in Washington, DC, many years ago. I was excited to present my graduate research and meet my future postdoctoral employer. I enjoyed the talks on new research and industry discoveries and learned valuable insights about other areas of chemistry. It was career and life-changing for me.
This ACS regional meeting, although smaller than the full national meeting, was exceptional with new research, fascinating industry perspectives and well-prepared and presented data from people of many nations, U.S. states, chemistry disciplines and stages of their careers.
My background and personal interest in organic chemistry and pharmaceutical research led me to two main presentation sessions – the Warner-Lambert/Parke-Davis Legacy Symposium organized by Paul Dobrowolski and the Eastern Michigan University Alumni Symposium organized by W. R. Collins.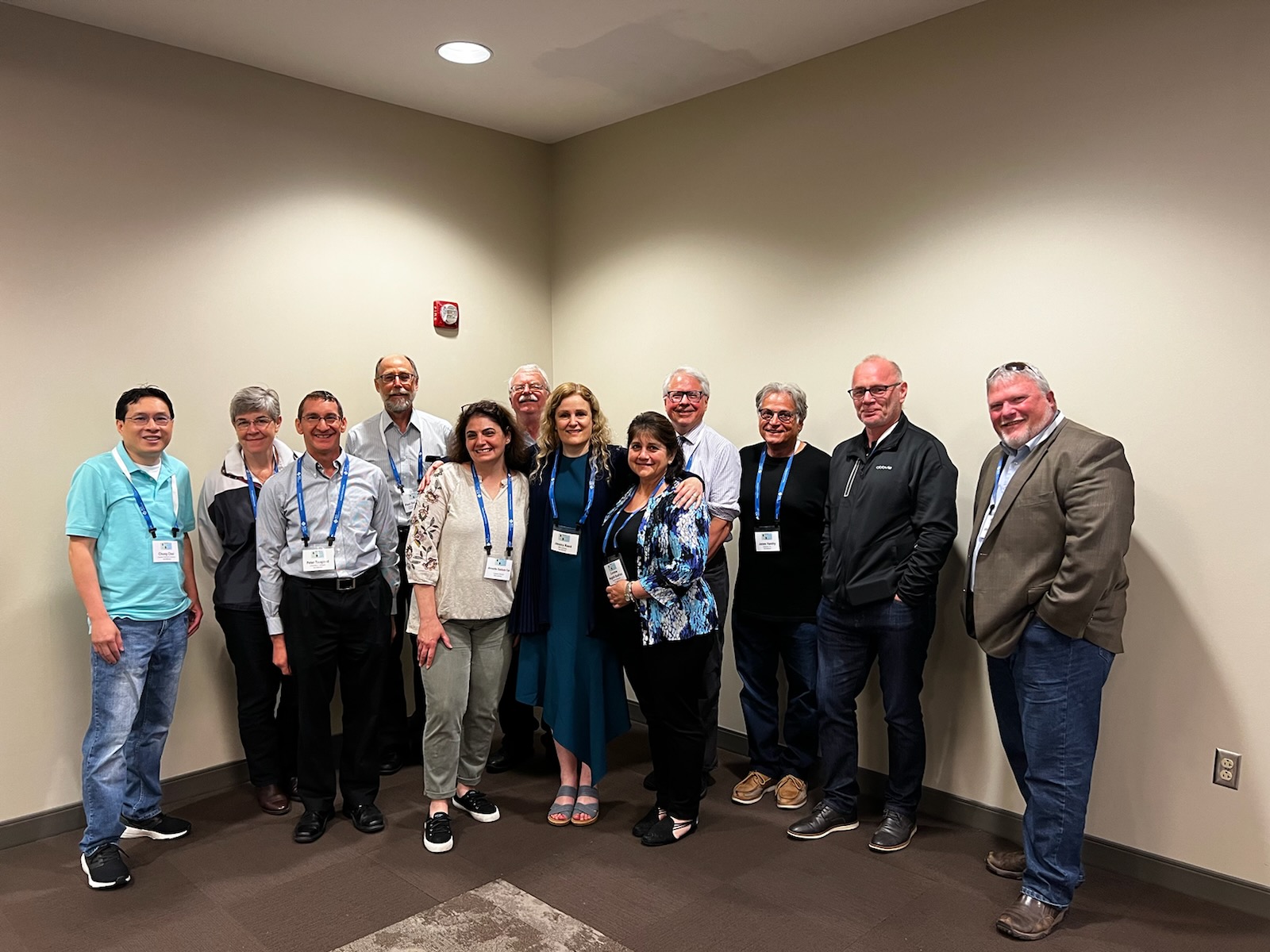 Some attendees from the Warner-Lambert/Parke-Davis Legacy Symposium Day 2.
Key Research Highlights
Excellent talks highlighted:
I also attended an insightful roundtable discussion: Skills beyond the Bench: Journeys in Leadership, sponsored by the ACS Women's Chemists Committee, the National Organization for the Professional Advancement of Black Chemists and Chemical Engineers and the ACS Detroit Local Section where scientists shared their leadership experiences and insights.
There were many scientists presenting their research as posters which always provides a chance to ask questions and discuss research challenges. Below are a few of my favorites.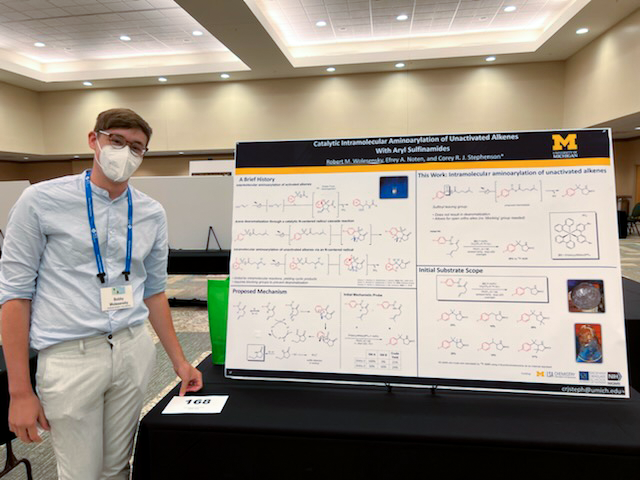 Poster: Catalytic intramolecular aminoarylation of unactivated alkenes with aryl sulfinamides. B. Wolesensky (pictured), E.A. Noten, C. Stephenson from the University of Michigan.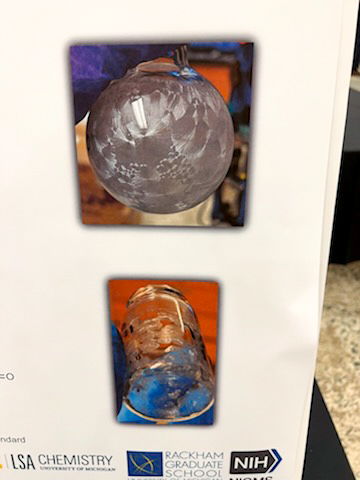 This poster had a very cool photo of the gorgeous crystals obtained.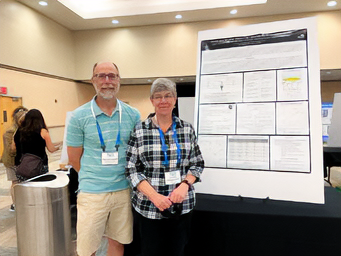 Above and Beyond: Measuring Lipophilicity of Large Molecules. A. Chervenak*, D Katz*, K. Favre*, S Placko*, J. Longenberger*, L Philippe-Venec (pictured) from *Analiza Inc. and PIC analytics. This photo also includes Paul Dobrowolski from Cayman Chemical.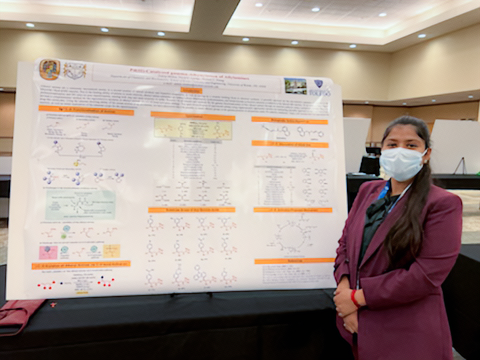 Poster: Pd(II)-Catalyzed gamma-Alkynylation of Allylamines. A. Mishra (pictured), V.G. Landge, and M. Young from the University of Toledo.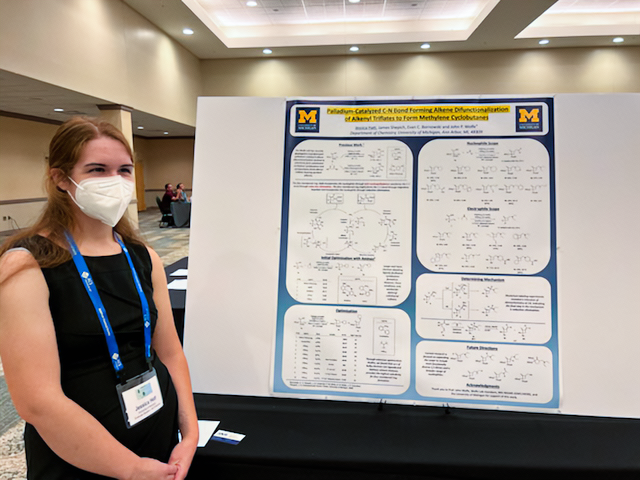 Poster: Palladium-catalyzed C-N bond-forming alkene difunctionalization of alkenyl triflates to form methylene cyclobutanes. J. Hatt (pictured), J. Shepich, E. Bornowski, and J.P. Wolfe from the University of Michigan.
There were many other excellent talks and posters presented by students, academics and industry professionals and the conference was extremely well organized and a pleasure to attend. There is nothing like an in-person conference to engage with fellow scientists and science.
Kudos to the meeting organizers and American Chemical Society.
By: Jessica Reed, Ph.D., Associate Director, Project Advisory Services
To learn more about working at MMS, visit our careers site.